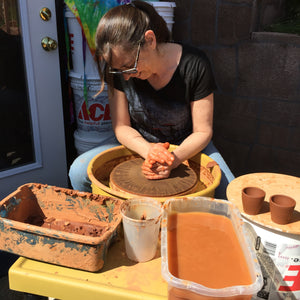 Unique Pottery to Enjoy Every Day
Unique Pottery to Enjoy Every Day
Unique Pottery to Enjoy Every Day
Unique Pottery to Enjoy Every Day
Unique Pottery to Enjoy Every Day
Unique Pottery to Enjoy Every Day
Orders placed after December 15th will be shipped in January
S.Marotta Pottery is a collection of functional pieces made of stoneware clay bodies. Our combination of clay and glaze palates provide a rich and varied selection sure to find a place in your home. Designed to be used on a daily basis, our pottery is durable, dishwasher and microwave safe. 
Pottery Lessons, Open Studio Time and Firing Services
We're offering lessons, Open Studio Time and Firing Services!
Learn how to throw or hand build your own pottery. With a maximum class size of four students, choose from either a 60-minute Go-For-A-Spin class or dive into a 6-week course. Either way, you're going to create your own work of art.
Click here for more details on Lessons
Looking for a place to create? We have 4 Brent Potters Wheels and Hand-Building equipment. Join the S.Marotta Pottery community for some Open Studio Time!
Click here for more details on Open Studio Time
Creating at home and need a place to fire your works of art?
Small Item Shipping
Small items are shipped using USPS Priority Mail at the flat rate of $15.50 - even for multiple items! Enjoy flat rate shipping and 2-3 day delivery when purchasing one or more small items such as: Salt pigs, Sponge holders, Small plates, Whisking bowls, Cups, Mugs and more.
Visit Our Photo Gallery Website
Looking for something special? Visit our Photo Gallery Website to see other S.Marotta Pottery products. We welcome commission and custom work. Whether it is an individual piece, a large order for a restaurant or a merchandising opportunity, we look forward to working with you. If you see something in our gallery that inspires you or want something unique, please contact us by phone at 949-351-1054 or email us at S.MarottaPottery@gmail.com.